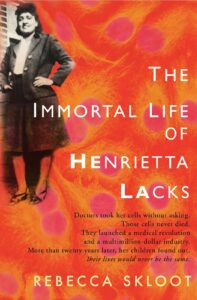 The Immortal Life of Henrietta Lacks by Rebecca Skloot was the Common Read Book for Fall 2014 and Spring 2015. The story of Lacks' enduring cells encompasses a family's history and tragedy, medicine and race, law, bioethics, scientific research and commerce. The book was selected by the Common Read Project Committee for consideration based on the quality of the writing, in-depth coverage of these important topics and multidisciplinary scope. Copies of the book are available at the Longview Library and an audio version is available through Overdrive. Longview Library also has a copy of the 2017 film on DVD available for check out.
The Common Read Project is an initiative that brings together students at MCC, and links them with other students, faculty, staff, and administrators, through book discussions and participation in a rich array of programs and activities.
Thank you to Cindy Cheng of MCC - Penn Valley and to the James P. Adams Library of Rhode Island College for much of the information used to compile this Subject Guide.