Skip to main content
It looks like you're using Internet Explorer 11 or older. This website works best with modern browsers such as the latest versions of Chrome, Firefox, Safari, and Edge. If you continue with this browser, you may see unexpected results.
COVID and MCC Libraries
All MCC physical library locations are closed. For online research assistance, click Ask a Librarian. Schedule a virtual research appointment with a librarian here.
Print books can be requested from the library catalog, including MOBIUS items. For Spring semester 2021, book pickup is available by appointment only on Mondays and Thursdays, 8:00 a.m. to 4:00 p.m. Appointments can be made through Starfish, or by calling your campus library during those hours to request a book and schedule your pickup time:
MCC-Blue River: 816.604.6642
MCC-Longview: 816.604.2080
MCC-Maple Woods: 816.604.3080
MCC-Penn Valley: 816.604.4080
Library books may be returned to the outdoor book return bins located at MCC-Blue River, MCC-Longview, MCC-Maple Woods and MCC-Penn Valley. Please check MCC's Coronavirus page for updates.
The Immortal Life of Henrietta Lacks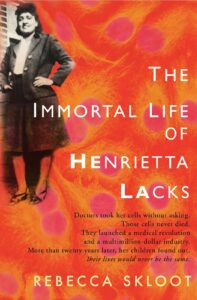 The Immortal Life of Henrietta Lacks by Rebecca Skloot was the Common Read Book for Fall 2014 and Spring 2015. The book was selected by the Common Read Project Committee for consideration based on the quality of the writing, in-depth coverage of an important topic and multidisciplinary scope. Copies of the book are available at the library. MCC Longview Library also has a copy of the 2017 film on DVD available for check out.
The Common Read Project is an initiative that brings together students at MCC, and links them with other students, faculty, staff, and administrators, through book discussions and participation in a rich array of programs and activities.
Thank you to Cindy Cheng of MCC - Penn Valley and to the James P. Adams Library of Rhode Island College for much of the information used to compile this Subject Guide.